Rooted in Authenticity: How Ana Amador Cultivates Integrity by Staying True to Herself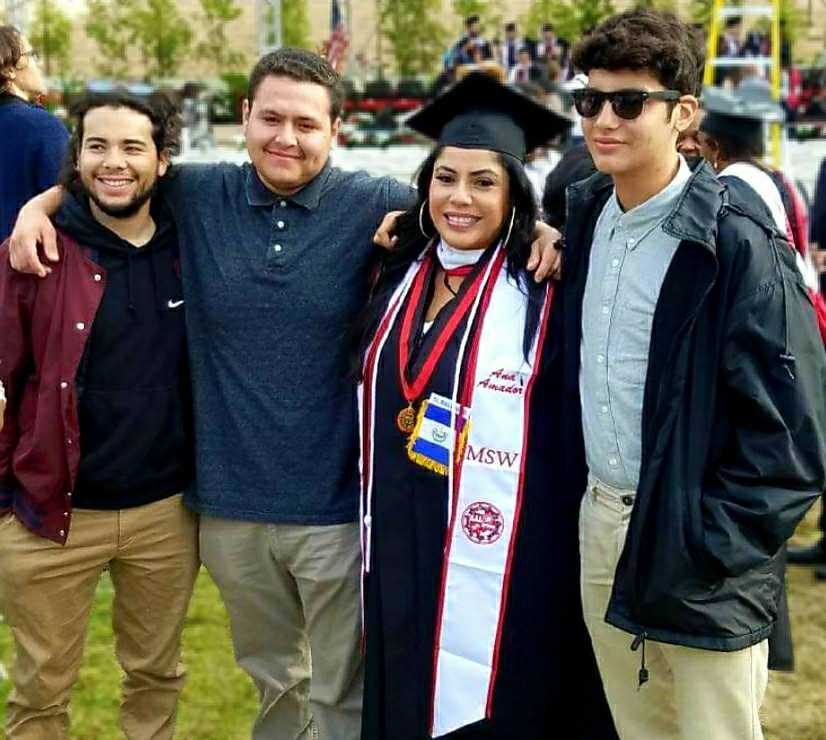 It's 2PM on a Wednesday and Ana Amador, a trainer and curriculum developer for the DMH + UCLA Prevention Center of Excellence, is wearing her signature hoop earrings – a personal symbol of her truth and resilience in both her life and career. She takes a deep breath and logs into her laptop. Today, she is training on trauma informed and resilience promoting strategies through Zoom to a small group of resource parents who have children with intellectual disabilities, developmental challenges, and autism spectrum disorders (ASD).
The training, facilitated entirely in Spanish and designed for non-clinical staff, is the first of its kind at the DMH + UCLA Prevention Center of Excellence.
"I created this curriculum with the community in mind," Ana said. "It's important for me to create opportunities for la comunidad, because I know if they had the tools, they would know they can be more than resilient – they can thrive, too."
Ana's dedication to helping others is woven into the fabric of her family. Born and raised in La Paz, Herradura, a small fishing town in El Salvador, Ana was two years old when the Salvadoran civil war commenced. Her father, a university student studying law by day and member of the Farabundo Martí National Liberation Front (FMNL) revolutionary party by night, would secretly organize farmers and indigenous people in their village to defend themselves against war crimes. His advocacy made him a leader in La Paz, Herradura but also a prime military target for attack. Despite this, his commitment to his community never swayed, but when he was captured, Ana's mother knew it was time to leave.
"We started getting death threats, so our only choice was to leave El Salvador or stay and die," Ana said, "but when we made it to the U.S., my mom left me and my sister with a family she had never met. She went back for my dad, and one year passed before we were reunited again."
Her family settled in Pacoima, California where Ana now faced a new challenge: she was undocumented. Her parents, frightened of police officers and military officials, advised her to keep her status a secret. For years, nobody outside her family knew. The closer she got to graduating high school, the more she worried how she would afford college.
"Knowing my dad never got to finish college after all he endured in El Salvador – almost dying, put in prison only to be tortured – how could I not get my degree?" Ana said. "I felt like I had to continue our legacy, so when I got my citizenship, it was a big relief because now I had a way to pay for school."
In the five years that followed, Ana, now a full-time college student and single mother to two boys, worked hard to build a lasting family legacy of advocacy. She worked first as a special education assistant and then with children with ASD. Besides focusing her studies on learning how human behavior works, she learned to write grants for non-profits specializing in ASD. Soon after obtaining her bachelor's degree, Ana began working as a behavioral therapist at the Child and Family Guidance Center (CFGC), a community mental health agency in the San Fernando Valley.
This pivot into mental health is where she felt she flourished. For the first time, Ana interacted and worked alongside social workers and realized this was something she could do. After working in community mental health for four years, she decided to go to graduate school at California State University, Northridge (CSUN).
At CSUN, Ana's ambition was to become a clinical social worker, so she embarked on a series of internships. The first was as a medical social worker in the NICU, where she learned how to provide trauma informed support to caregivers with premature infants. Using these skills, she landed an internship at the VA Sepulveda Ambulatory Care Center as a geriatric social worker, where she developed three curricula and created two of the first mindfulness support groups: one for female veterans and another for LGBTQ+ people.
After graduating, Ana put her program development work on hold to focus on building her clinical skills and obtaining certifications in several evidence-based practices at CFGC. One day, CFGC contracted with a level 12-14 Short-Term Residential Therapeutic Program (STRTP) group home (the highest level within the state system) that was looking for a strong clinician to work with systems-involved youth. Naturally, they turned to Ana who, for some kids, became their 10th, 15th, or 20th social worker.
"Working with foster youth changed everything for me," Ana said. "I knew I had to do more – I couldn't do this micro, one-on-one work anymore – I wanted to create change on a macro level and that's when I saw the opening at the DMH + UCLA Prevention Center of Excellence."
Ana was looking for a workplace that would allow her to create systematic change on a larger scale. By now, she had accumulated 15 years of hands-on experience working with different populations in schools and within the Los Angeles community. Ana knew it was time to put the program development work she had previously put on hold back into motion.
"I saw that the DMH + UCLA Prevention Center of Excellence was looking for a community trainer that would work in collaboration with the Los Angeles Department of Mental Health, and I said 'I can do that! I can train!'" Ana recalled.
One year later, Ana has created four comprehensive workshops for STRTP providers and staff, conducted over 100 trainings, and, with her DCFS Task Force team, has trained over 7,000 people. The trainings she designed as an intern at the VA are still in use today. To keep her clinical skills sharp, Ana maintains her private practice, dedicated to incorporating findings from new studies and data into her work.
"My goal has always been to change systems, and I think I've done that here," Ana said. "Working at the DMH + UCLA Prevention Center of Excellence helped me find my niche, my purpose, and my own lane, which for me means going back to my roots to work for and with the community."
Visit the Wellbeing for LA Learning Center to explore evidence-based trainings from the DMH + UCLA Prevention Center of Excellence team!