DMH + UCLA Early Childhood Fellowship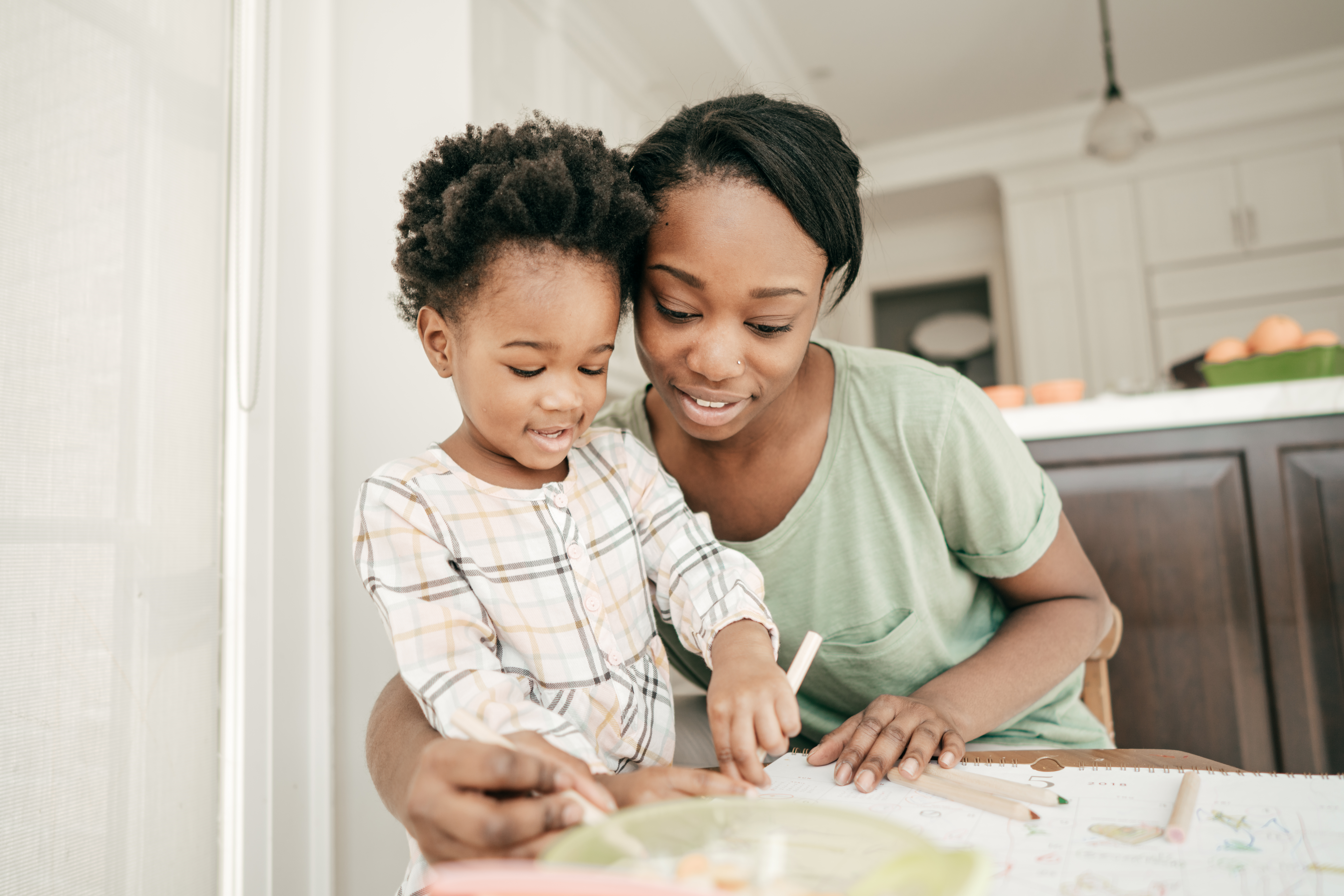 The DMH + UCLA Early Childhood Fellowship is designed to support the growth and wellbeing of professionals working with young children and families in Los Angeles County. For ten months, Fellows come together to learn, practice, and reflect on the application of key knowledge and skills that promote resilience in young children and their families. Fellows learn from national and local experts and collaborate with colleagues to create and implement innovative approaches to addressing the challenges faced by families with young children in their communities.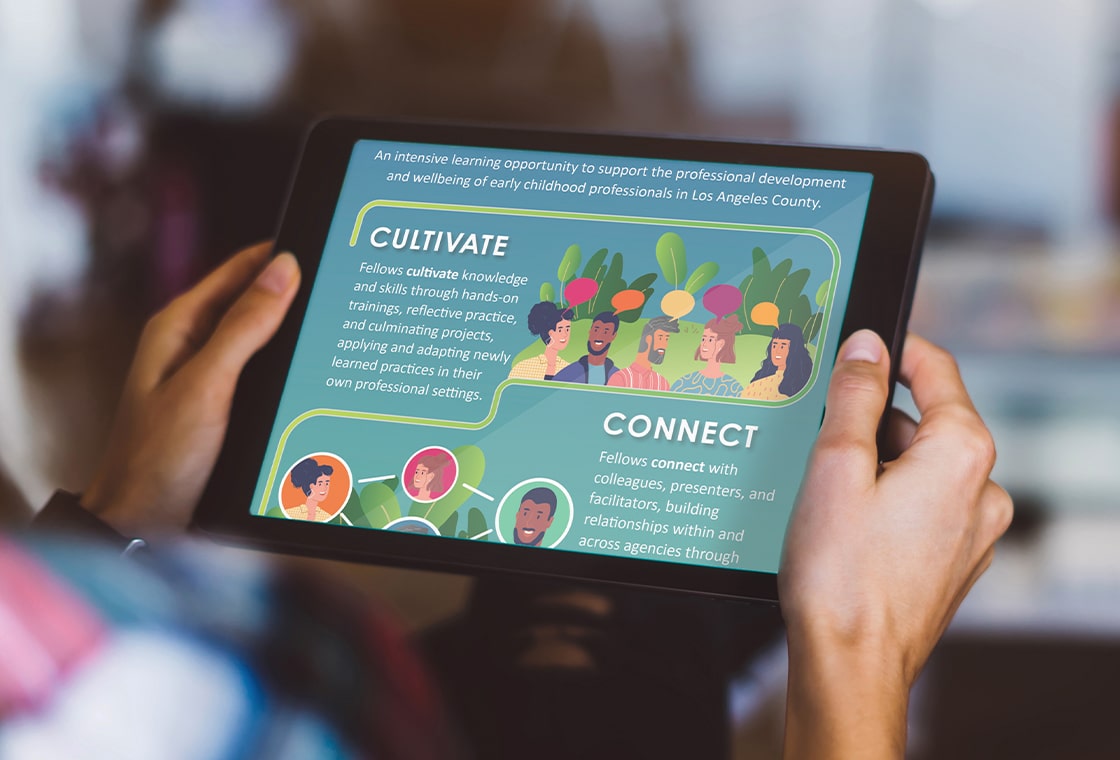 Infographic
What makes our Fellowship experience unique?
The DMH + UCLA Early Childhood Fellowship prioritizes community and connection, providing Fellows with a unique and empowering experience. Download our infographic for more.
Download
Explore Our Fellowship Program
2020-2021 Fellowship Presenters Include
September/October – Frames for Work in Early Childhood
The Fellowship presenters in September and October set the frame for the Fellowship and early childhood work as a whole.  These presentations encouraged deep reflection in order to perspective-take and build stronger relationships, the utilization of reflective skills and strategies to deepen practice in the early childhood sphere, and the use of an experiential framework to better understand your own multicultural identity as a tool for honoring the differences of others.
Cassandra Joubert, ScD
Ariana Gil
Barbara Stroud, PhD
November – Developmental Risk and Maternal Mental Health
The Fellowship's November presentations deepened our understanding of developmental risk and maternal mental health. The November presenters explored the impact of transgenerational trauma, racism, and prenatal maternal stress and alcohol use on mother and child.
Catherine Monk, PhD
Sayida Peprah, PsyD
Ana Cardenas Rolon, LCSW
December – Early Experiences and Brain Development
The Early Childhood Fellowship's December presenters furthered our knowledge of the impact of early life experiences like chronic stress and adverse childhood experiences on the brain development of young children. The December presentations imparted evidence-based strategies, skills, and tools for supporting the healthy development of young children, especially those with histories of adversity.
Marta M. Shinn, PhD
Amy E. Weir, PsyD
Adele Diamond, PhD, FRSC
Jess Bernal, LMFT
Ping Ho, MA, MPH
January – Attachment, Transition, Loss
In January, the Fellowship examined how to best support young children through times of transitions and loss using an attachment-based framework.  The January presenters delved deeply into how to build trusting relationships with young children and leverage their power to promote healing and post-traumatic growth.
Mary Dozier, PhD
Adriana Molina, LMFT
Brandon Jones, MA
February – Rhythms and Routines
In February, the Fellowship explored the impact of sensory experiences on young children, as well as strategies to promote accessibility and engagement and combat barriers to family services and treatment.  The February presenters shared their perspectives on integrating self-compassion into the rhythms and routines of our professional practice.
Briana Pollard, OTD, OTR/L SWC, CLE, CIMI
Nastassia Hajal, PhD
Judith Perrigo, PhD
Roger Fernandes, MA
Fern Renville
March – Supporting Child and Family Resilience
Alan-Michael Graves, EdD
Lisseth Rojas-Flores, PhD
April – School-Based Perspectives
Sarai Coba-Rodriguez, PhD
Idara Essien-Wood, PhD
J. Luke Wood, PhD
Michelle Salcedo, MEd
Vicki Alvarez
May – Community Wellbeing
Kathleen Lockyer
José G. González, MS
Fellowship Description
The Early Childhood Fellowship provides a model of professional development that connects "knowing" and "doing" through a curriculum that integrates seminal theoretical models with best practices in prevention and early intervention. The Fellowship infuses an emphasis on relationship building and workforce wellbeing in order to build a collaborative learning community that will provide sustained support for Fellows' professional and personal growth both during and following completion of the program. The Fellowship integrates a sociocultural lens throughout the training to create a learning environment that honors the strengths and challenges that characterize the diverse communities of Los Angeles County.
The Early Childhood Fellowship will span a range of topics such as:
Culturally-informed approaches to prevention and early intervention
Principles of reflective practice
Prenatal risk
Early experience and brain development
Perinatal mental health
Promoting self-regulation in at-risk children
Relationship-based approaches to supporting healthy neurodevelopment
Relational approaches to observation and assessment
Importance of fathers
Diverse family constellations
School readiness
Brain-based classrooms
Environmental health and community wellbeing
Professional Wellbeing with Ping Ho from UCLArts and Healing
Lisseth Rojas-Flores presenting "Young Children in the Aftermath of Immigration Enforcement"
Music and Movement in the Garden
Objectives
Upon completion of the program, Fellows will:
Have a strong foundation in seminal theoretical perspectives relevant to early childhood development.
Be able to flexibly integrate and apply trauma, resilience, and culturally informed perspectives to their early childhood work.
Understand the impact of early experience on children's brain development and family functioning.
Be able to identify strengths in young children and their families and be familiar with approaches that leverage and promote such strengths.
Have a repertoire of best practices in prevention and early intervention that they can regularly implement in their settings.
Understand the relevance of and apply reflective practice principles in their work with young children and families, as well as their interactions with colleagues, supervisors, and supervisees.
Be able to share and disseminate critical knowledge and skills with parents, caregivers, families, and other early childhood professionals.
"This Fellowship has provided me the opportunity to gain both knowledge and skills that will allow me to provide better services to the most at need populations in LA County."
Participants & Eligibility
The DMH + UCLA Early Childhood Fellowship is designed for individuals from a variety of sectors, including mental health, preschool and child care, child welfare, home visiting, advocacy and public policy. Individuals from disciplines including child development, early childhood education, marriage and family therapy, medicine, occupational therapy, physical therapy, psychology, recreational therapy, social work, and speech and language therapy are invited to apply. The Fellowship aims to bring together individuals with a diversity of backgrounds and experiences in order to create a learning environment in which a broad range of perspectives can be shared. Preference will be given to applicants whose work impacts underserved and/or vulnerable populations. Agencies are encouraged to support the application of two or more staff members (particularly those who serve in different positions, such as supervisor and a clinician providing direct service) in order to enhance early childhood prevention and intervention throughout the agency. Individual applicants are also invited to apply, but should be aware that some preference will be given to applicants who are applying with colleagues from the same agency/organization.
Who is eligible?
The Early Childhood Fellowship is open to professionals and paraprofessionals whose current work impacts young children aged birth to six years and/or their families within Los Angeles County.
Applicants may work in a variety of organizational settings, including community agencies, early education or childcare settings, academic or research institutions, or advocacy organizations.
Applicants' work may impact young children and/or their families through a variety of mechanisms, including:

direct service provision, training, and/or supervision
advocacy or public policy
consultation
research or program evaluation
Victoria Lloyd and Becca Morgan from the ECF team welcome participants.
Presenters Cassandra Joubert and Ariana Gil with ECF Facilitators Ruben Martinez and Becca Morgan
Fellowship Components
Pre-reading and pre-watching (prior to Fellowship sessions):
Fellows are expected to complete assigned 

pre-

reading

(s) and/or pre-watch assigned videos 

prior to each session in order to be prepared to contribute to group discussions and derive the most benefit from the sessions.

 
In-person or virtual sessions:
Consist of

 didactic presentations

 and trainings with national and local leaders

, experiential activities, collaborative learning groups, and reflective practice groups.

 
Fellowship 

sessions o

ccur 

two days (Friday

–

Saturday) per month

, with the exception of September, the first month of the Fellowship, when there is only a Friday session.

 

S

essions t

ypically r

un

 from 

9:00

 am 

to 

5:

0

0 

pm, but exact ending times may vary slightly depending on the 

particular present

ation

.

  Virtual sessions will be split into morning and afternoon sessions, with at least an hour break in-between and shorter breaks scheduled throughout the day.

 
Collaborative learning groups and online coaching session:
Fellows will participate in 

a 

small collaborative learning group 

to share how they 

applied their learning from the previous month.

 

Each Fellow will facilitate 

one

 of 

their learning group

'

s discussion

s

 during the course of the Fellowship

 by reviewing their group members' 

written 

reflections from the previous month in advance, identifying important themes, and 

prepar

ing questions

 in order to guide a group discussion

.

 

Fellows will participate in 

one

 online coaching session with three other Fellows and a F

ellowship

 staff member in order to prepare for their facilitation of a collaborative learning group discussion.

 
Reflective Practice Groups:
Fellows will participate in a 

reflective practice 

group each month as part of the sessions.  

 

Groups will consist of approximately 6-8 Fellows and will be led by an experienced 

R

eflective Practice Facilitator.

 
Inter-session practice:
Fellows are expected to apply, reflect upon, and refine key knowledge and skills in their work settings following each month's session.

 
Monthly written reflections:
Fellows will submit written reflections to the 

Fellowship's

 

online

 L

earning 

C

ommunity describing their experiences applying their learning from the previous session so that Fellows can share their successes and challenges with one another

.

 
Culminating projects:
F

ellows will 

work 

in teams

 

to 

undertake 

a 

culminating

 project to 

identify a challenge 

faced by young children and families in their community

, develop a plan to address the challenge, 

and 

jointly implement the plan in their working setting(s)

.

 

Fellows will form teams once they begin the Fellowship and may collaborate with colleagues at their own agency and/or other agencies.

 Time will be provided at the beginning of the Fellowship for Fellows to 

learn about one another's backgrounds and interests so they can 

identify colleagues with whom they would like to collaborate on 

this

 project.

 

Fellows 

will 

periodically 

submit 

brief 

progress report

s

 

describing their 

work

 on their project

 over the course of the Fellowship.

 

Teams 

will

 deliver a 30-minute 

formal presentation in 

June

 to share their work.

 

While some time to work on the culminating projects will be provided during the in-person or virtual sessions, 

Fellows should anticipate that they will need additional time outside of the Fellowship to work on and complete

 the

ir

 project

.

 
"I am grateful to have the opportunity to expand my knowledge base and develop a new network of peers to collaborate with. My participation has been a joy and a privilege."
Fellowship Requirements
Fellows must satisfy all of the following requirements in order to receive a Certificate of Completion: 
Attendance 
Fellows may not miss more than 1

6

 hours of the sessions.

 

Fellows who miss part or all of a session must submit a written plan

 to the Program Coordinator

 for obtaining the information that they missed in the session.

 

Facilitation of collaborative learning group discussion and 

participation in 

online coaching session.

 

Fellows are 

required

 to facilitate 

one

 collaborative learning group

 discussion

 during the course of the Fellowship and

 participate in 

one

 

online coaching session

 with 

Fellowship

 staff in advance of the group they are facilitating

.

 

Fellows will sign up at the beginning of the Fellowship to facilitate a collaborative learning group during a specific session and for the accompanying 

online coaching

 session.

 

Sign-ups are on a first-come, first-served basis. If a Fellow is unable to select a date that works for them, it is their responsibility to see if another Fellow will exchange dates with them.

 

Fellows must participate 

by video

 in the 

online coaching

 session.  Fellows should make arrangements in advance to have access to a computer or cell phone equipped with a camera.

 
Written reflections 
Fellows must complete 

all

 monthly written reflections and submit their reflections 

on time

, even if they were absent from a session

.

  Late 

and non-

submissions

 of monthly reflections

 will count as missed hours.

 
Culminating projects
Fellows must 

complete all elements of the 

culminating

 project, including 

on time

 submission of 

written progress reports

,

 and 

the formal

 presentation.

 

All 

Fellows 

are expected to

 

participate in and contribute in a meaningful way to the 

development and piloting of 

the

 project

, as well as the formal presentation in June

. 

 

 

Fellows are expected to work collaboratively with the other members of their team to complete project-related tasks in a timely manner.

 

Late and non-submissions of progress reports will count as missed hours.

 
Professional conduct 
In order to maintain a respectful environment and mutually supportive learning community for all participants, the following code of conduct has been established for the Fellowship. 
Fellows are expected to arrive at sessions early enough so they are ready 

to start 

on time and to remain for the entire day.

 

Fellows are expected to notify the Fellowship Program Coordinator 

by email

 

at least 10

 days 

in advance of any anticipated absences

 and within 

2

 days following any unanticipated absences

.

 

Fellows who are repeatedly late, leave early, 

frequently 

step out of sessions 

to 

respond to phone calls, texts, or emails,

 

have multiple absences, do not communicate with the Program Coordinator about their absences, do not submit 

written reflections

 or progress reports (or repeatedly submit them late), or engage in other behaviors that 

detract from

 the learning 

environment 

may be 

dismissed from

 the Fellowshi

p

. 

 

In order to promote agency support for the training experience, agency supervisors will be provided with regular reports regarding Fellows' attendance

,

 participation

,

 and training topics. 

 

Fellows are 

expect

ed to come prepared and ready to actively engage in discussions (including completing any assigned reading in advance of sessions), small group work, and experiential activities.  Training will consist of a combination of didactic instruction and hands-on learning and 

F

ellows are encouraged to participate in a variety of learning experiences.

 

Fellows

 are asked to be open to considering and reflecting upon a diversity of perspectives on work in the early childhood landscape and

 are expected

 to express any difference of opinions with one another in a respectful manner.