Building Agents of Change Through Restorative Practices
How Curriculum Developer De'Nisha Beasley, MSW, MA is using a restorative approach to build, strengthen, and heal communities throughout Los Angeles County.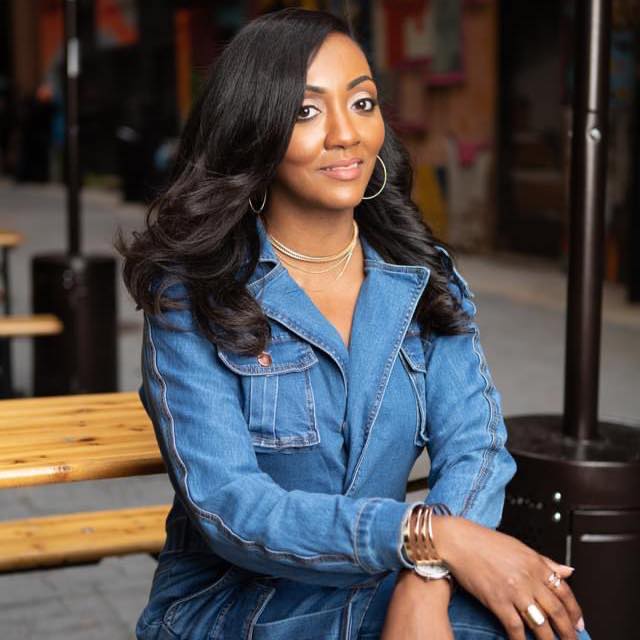 When thousands of people took to the streets and demanded justice for the Black lives lost at the hands of police last summer, De'Nisha Beasley, a trainer and curriculum developer within the DMH + UCLA Prevention Center of Excellence, saw a teachable moment.
With her department now working from home, she arranged and co-facilitated a virtual restorative circle for her colleagues, fostering a safe space where people with different backgrounds, varying perspectives and worldviews came together to talk about racism and the realities Black communities face on a daily basis.
"I felt a restorative circle would provide an opportunity for us to share those experiences with the ultimate goal of us collaborating to find ways our center can take an active role in making a change," she said.
De'Nisha is trained in implementing restorative practices and collaborative problem solving. Restorative practices is a science that studies how to improve and repair relationships and communities. It uses a trauma informed lens to reduce crime, violence, and bullying by building and strengthening relationships. Indigenous peoples have used restorative circles as their justice system for thousands of years to address conflict in their communities. And through her work within the DMH + UCLA Prevention Center of Excellence, De'Nisha found a way to share this practice with professionals in Los Angeles County.
MAY 2017
De'Nisha was working in the medical field as a social worker, discharge planner, rehabilitation specialist, and case manager for over nine years while living in her hometown of Detroit. One day, she woke up and questioned what she was doing with her life. The next day she quit her job, and a few months later, De'Nisha moved to California.
With nothing lined up, De'Nisha applied for work through a medical placement company that found an opening at a middle school that had transitioned from a zero tolerance education system to a system with a restorative practices approach.
She had never used a restorative approach before or worked at a school, let alone one severely impacted by a mental health crisis. In her new role, De'Nisha helped alleviate the amount of daily suicide risk assessments the school psychologist was addressing.
"I was doing about 10 suicide risk assessments a day – a lot of the kids were engaging in self-injurious behavior and very depressed," De'Nisha said, "so I would come in using a trauma informed approach to help support students and connect them to the help they needed."
It was at this middle school, after attending extensive trauma informed trainings throughout the U.S., learning the intricacies of restorative practices, and then utilizing these methods with her students, that De'Nisha became committed to being restorative in and out of the classroom.
"I saw how using a trauma informed approach and restorative practices together created a change in my students, so that's when I became proactive and was like 'this really works, I can take this out to the community.'"
Feeling inspired, De'Nisha started inviting parents to participate in restorative circles with their children at school. Then, each summer break, she would fly back home to Detroit and facilitate restorative circles in her own community – with families, couples, and single mothers looking to build connections with their children.
For several years she remained devoted to her students and community. Her work, she said, was validating – it was her calling.
In February of 2020, De'Nisha was presented with an opportunity to work as a curriculum developer at the DMH + UCLA Prevention Center of Excellence, where she would transform strategies from her hands-on work into evidence-informed trainings for professionals across LA County.
The DMH + UCLA Prevention Center of Excellence specializes in building community through unique trainings designed to elevate the trauma informed capacity of systems of care in LA County.
As a curriculum developer, De'Nisha creates trainings that guide educators in utilizing restorative practices to create just and equitable learning environments, nurture healthy relationships, address conflict, and repair harm for students, school staff, or both. The goal of her restorative practices trainings, De'Nisha said, is to expose educators to an approach that can help students resolve disagreements and take ownership of their behavior.
"If two children get into a fight, what typically happens is an adult comes in, breaks up the fight, and suspends them," De'Nisha said. "With a restorative circle, the goal is to recognize that these are two humans who just had an altercation, and they need to talk about it. They need to take accountability for their actions and figure out how they are going to repair the harm they caused between each other and their community."
Today, De'Nisha continues to advocate for children. She remains deeply committed to healing and ensuring the safety of the children she serves and the children in her own community. And behind each curriculum she creates are the faces of her students who, she said, inspire everything she does.
"I believe in healing," De'Nisha said. "Before, I thought being a peacemaker meant being non-confrontational and keeping my feelings to myself. When I learned about restorative practices, I realized that staying silent doesn't keep the peace – it doesn't address issues, which causes more problems in the long run. Confrontation isn't bad – you can actually have conflict and heal from it. That is a possibility, and a lot of people don't know how to do that, so for me, teaching restorative practices is my way of spreading a little healing everywhere."
Visit the Wellbeing for LA Learning Center to explore evidence-based trainings from the DMH + UCLA Prevention Center of Excellence team!